---
World Cup 1930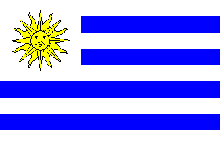 The first Football World Cup was staged in 1930. The games were awarded to Uruguay as they were the Olympic champions at the time and since they were celebrating the centenary of their independence. As well as being the first ever hosts, Uruguay also became the inaugural champions, beating Argentina in the final, 4-2.
The first World Cup was the only one without qualification; teams were invited. Due to the long and costly trip across the Atlantic, very few European teams chose to participate; two months before the tournament started, no team from that continent had officially entered. FIFA's president, Jules Rimet, intervened, along with the Uruguayan government, which promised to pay the travel expenses of any travelling European team. Eventually four teams made the three-week sea trip: Belgium, France, Romania and Yugoslavia.
The thirteen teams were drawn into four groups, with all the games taking place in the Uruguayan capital, Montevideo. Since there were no qualifying games, the opening two matches of the tournament were also the first ever World Cup games, taking place simultaneously on July 13th; France beat Mexico 4-1, while the USA defeated Belgium 3-0 at the same time on the other side of the city. France's Lucien Laurent was the scorer of the first ever World Cup goal. The USA's Bert Patenaude scored the first hat-trick in World Cup history, as his team beat Paraguay 3-0. The four eventual group winners, Argentina, Yugoslavia, Uruguay, and the USA, moved to the semifinals.
The two semi-final matches saw identical 6-1 scores, as Argentina beat the US and Uruguay defeated Yugoslavia. Because the traditional third-place playoff match was not established until 1934, the 1930 World Cup is unique in not having any games take place between the semi-finals and the Final. However,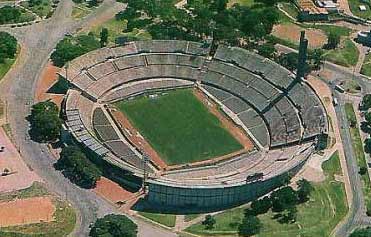 some sources, notably the FIFA Bulletin from 1984, affirm that the match occurred (Yugoslavia - US 3-1). This information has never been officially confirmed.
The first ever World Cup Final was played at the Centenario Stadium, Montevideo, on July 30th. As a fact, all matches took place in Montevideo.
A seemingly innocuous controversy overshadowed the build-up to the match as the teams disagreed on who should provide the match ball, forcing FIFA to intervene and decree that the Argentine team would provide the ball for the first half and the Uruguayans would provide their own for the second. The game ended 4-2 to Uruguay (who had trailed 2-1 at half time) who added the title World Cup Winners to the already prestigious mantle of Olympic Champions, as Jules Rimet presented the World Cup Trophy, which was later to be named after the man himself. Only one player from that final, Francisco Varallo (who played as a striker for Argentina), is still alive today.